Dental Implants and Diabetes
Dr. Avinash Bidra in Glastonbury, near Hartford, CT, conducts a thorough medical history review and oral health examination to determine whether you are a good candidate to receive dental implants. Although patients may believe dental implants and diabetes are incompatible, studies have shown that patients with controlled levels of diabetes can benefit from dental implants for as long as patients without diabetes if they practice good oral hygiene, maintain a healthy diet, and undergo regular dental examinations.
How diabetes can cause tooth loss
Diabetes impairs the body's natural ability to produce or respond to insulin, a hormone that regulates metabolism of carbohydrates and controls glucose levels. This slowing of these processes can lead to gum disease and tooth loss, delayed healing, and difficulty in responding to infection. After suffering tooth loss, diabetes patients tend to avoid solid foods that require heavy chewing. This can lead to poor nutrition, ineffective metabolism, and uncontrolled diabetes.
Uncontrolled diabetes can increase risk of implant failure
According to the American Diabetes Association, 1.5 million Americans are diagnosed with diabetes each year. As the number of Americans with diabetes increases, so does the demand for dental implants. Dental implants not only provide the best support for restorations such as crowns and dentures, but can also provide vital stimulation to the jawbone to prevent atrophy. Although dental implants are widely considered the optimal choice in restorative dentistry, patients with uncontrolled diabetes are at risk of several complications following dental implant surgery: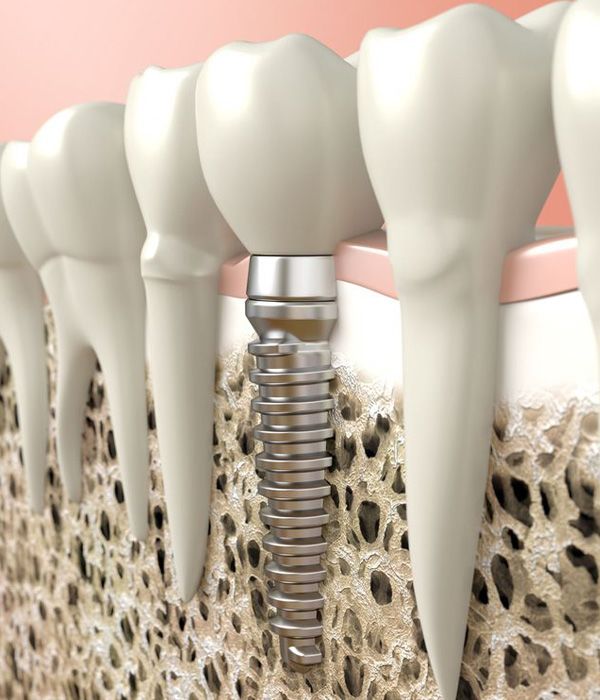 Failed Osseointegration
Uncontrolled diabetes and smoking can impair osseointegration and result in increased risk of implant failure. Osseointegration is the process by which your dental implants fuse with your jawbone to serve as an artificial root for your restoration and provide necessary jawbone stimulation. In a study performed by the National Center for Biotechnology Information, patients with poorly controlled diabetes, or HbA1c greater than 10 percent, had less implant stability immediately following surgery and took twice as long as healthy patients to achieve a stable baseline. However, once patients with poorly controlled diabetes reached a stable baseline, they experienced the same level of dental implant health as patients with controlled diabetes one year after the procedure.
Peri-implantitis
Peri-implantitis is an inflammation and infection of the gums surrounding dental implants. If left untreated, peri-implantitis can spread to the gum tissue and bone that supports the dental implants. Bone degeneration causes implants to become less stable.
Implant Failure
The combination of failed osseointegration and peri-implantitis can lead to implant failure. If implant failure occurs, implants must be removed.
If you are a diabetic considering dental implants, Dr. Bidra can assess your health and recommend post-treatment measures to lower your risk of complications following implant surgery.
DENTAL IMPLANTS CAN HELP PATIENTS WITH DIABETES
When patients have controlled diabetes, dental implants can have numerous benefits. Implants can restore your bite and chewing ability, allowing you to eat more nutritious foods and better control your diabetes. In an additional study conducted by the National Center for Biotechnology Information, patients with controlled diabetes showed no difference in implant survival compared to patients without diabetes.
Maintaining your dental implants
Although diabetic patients can experience stability and longevity with their dental implants, the healing period is a crucial time to prevent infection and complications. Dr. Bidra can monitor your recovery and provide solutions to help you heal successfully:
Medication
The application of antibiotics and chlorhexidine has been proven to help improve implant success. It also reduces the risk of deteriorating gum disease and implant failure in diabetic patients.
Diet
Changing your diet may help you gain control over your diabetes. Before and during implant treatment, you should consume a nutritious and balanced diet and monitor your glucose levels carefully.
Frequent Examinations
Although the NCBI study demonstrated that implant survival rates were the same between patients with controlled diabetes and patients without diabetes, it also suggested an increased risk of peri-implantitis in diabetic patients over time. Regular dental checkups and cleanings can help us detect early signs of complications before they affect your implants.
Schedule a Consultation
If you are a diabetic considering dental implants, Dr. Avinash Bidra can assess your health and recommend measures to lower your risk of complications following implant surgery. Call our office at (860) 659-8660 or contact us online to schedule your exam.